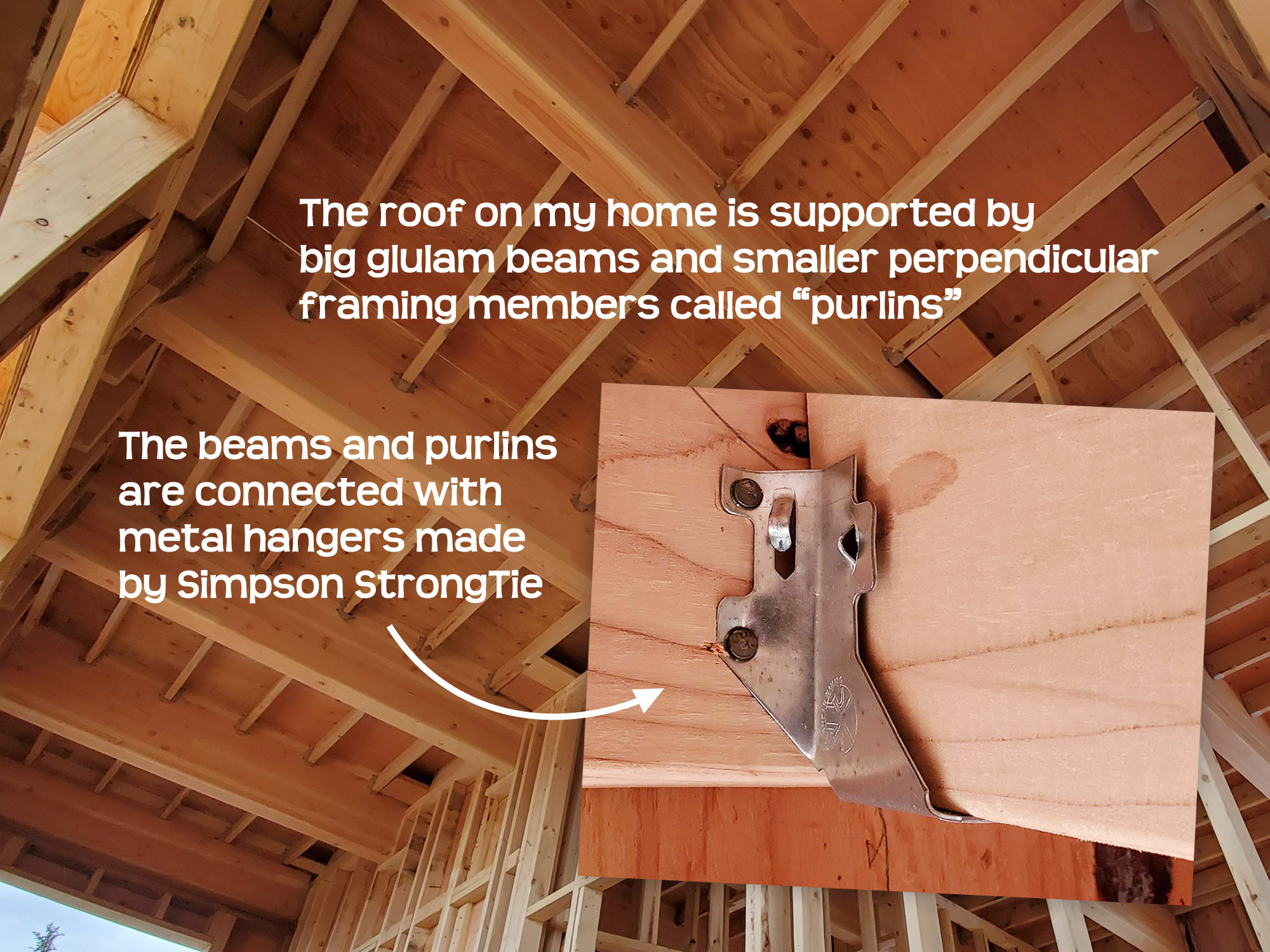 I could post for months about problems with my framing, but I only want to share one more for now because finding it represented a big turning point in the project.
The roof of my home is supported by glulam beams connected with hundreds of purlins. Each purlin is supposed to be attached to the beams with pairs of 3″ nails installed through metal hangers. Instead of using the 3″ nails called for in the hanger instructions, my framing contractor used 1.5″ nails. These nails were so short that they didn't even connect the purlins with the beams, and their tips were visible through gaps in the hangers crossing in empty space. The framers had undoubtedly known the nails were too short. They could see that with their eyes. But they had used them anyway.
In my last in-person meeting with the framing contractor we'd walked past sheathing cut into tiny mangled strips, up untreated stairs on bare concrete, past shear walls made with the wrong nails, and stood talking under hundreds of purlins installed incorrectly. Literally no aspect of the framing job had been done right. At the time, I had no idea.
All construction projects have some issues, and it's typical to allow a contractor to come back to fix his or her mistakes. But by the time I figured out what he'd done to my roof, it was clear to me that this contractor had had no business attempting to frame my home. Online, he claimed to lead a team of "skilled craftsman [sic]" who deliver "exceptional service and finish product." He had charged top dollar–and more. But the framing he and his "skilled" crew had delivered was crude and incompetent, hadn't followed the plans, had failed inspection, and was flat-out unsafe.
The roof was the last straw. After requesting guidance from several industry professionals, including an exec at one of Alaska's largest construction operations, I reached a decision: my house would be fixed, but not by the original framing contractor. He and his "skilled" crew could never be allowed to set foot on this project again.
Posted June 6, 2020.
View on Instagram
Check out the AK House Project Instagram account for feedback and comments on posts.